Welcome to the Weekly Savings Linky here at Frugality Is Free! This week I went more than $20 below my weekly grocery budgets, because I only picked up a few essentials and a couple of deals. It is good to have weeks like this one once in a while, so that I can offset those weeks where I go over budget. It all seems to even out in the end, when I add up my entire purchases for the year. While I did not save much at the different stores, I would still have ended up paying at least $15 more, if I had purchased everything at one store.
How did you do on your shopping this week?
You can see the details of my shopping trips by clicking on the titles or the images.
I spent $11.68 at ALDI
I saved $3.43 at ALDI
See my:
I spent $21.43 at Publix
I saved $26.84 at Publix
I spent $9.93 at Walmart
I saved $7.17 at Walmart
See my:
I spent $4.53 at Target
I saved $12.48 at Target

This week's Walgreens Free Photo Trip
I spent $0 at Walgreens
I saved $4.75 at Walgreens
My Weekly Savings Totals
Groceries for a family of 5:
Total spent this week $43.04
Total saved this week $37.44
This week's clothing and extra purchases:
Total spent this week $4.53
Total saved this week $17.23
Total Out of Pocket This week:
Total spent this week $47.57
Total saved this week $54.67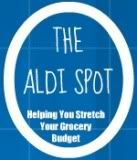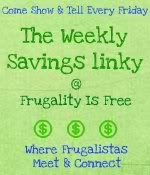 For more places to link up your
grocery savings
check out the
Weekly Savings Linky Collection
, and if you have a giveaway on your blog don't forget to enter it at the
Fantastic Friday Giveaway Linky
.
What is your weekly grocery budget?