This week I have been doing a lot of clerance shopping, which means that my non-grocery spending increased. Still, with a family of five there needs to be room in the budget for extra spendings on necessities and fun, and thanks to my frugal grocery budget the wiggle room is there. This is my third week in a row where I am below my grocery budget of $65 for a family of five, so I am thrilled about that.
The best part is probably that my family isn't missing anything, we are very spoiled with all the healthy food and the goodies in the house at the moment. .
How did you do this week?
You can see the details of my shopping trips by clicking on the titles or the images.
See my:
I spent $5.20 at Walmart
I saved $13.21 at Walmart
See my:
I spent $24.51 at Publix
See my:
This week's Free Toothpaste at CVS trip
I spent $1.42 at CVS
I saved $14.43 at CVS
I received $3 CVS Extra Bucks Back
This week's 90 Percent Off  Target Easter Clearance Trip
My Target Towel Clearance Trip
I spent $45.89 at Target
I saved $125.21 at Target
My Weekly Savings Totals
Groceries for a family of 5:
Total spent this week $43.89
Total saved this week $100.39
This week's clothing and extra purchases:
Total spent this week $45.89
Total saved this week $125.21
Total Out of Pocket This week:
Total spent this week $89.78
Total saved this week $225.60
Make sure to check out the Aldi spot for a
Grocery Price List
here at Frugality Is Free for a price comparison between Aldi, Target, Publix, Winn-Dixie and Walmart.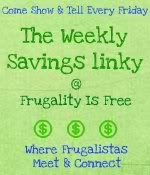 For more places to link up your
grocery savings
check out the
Weekly Savings Linky Collection
, and if you have a giveaway on your blog don't forget to enter it at the
Fantastic Friday Giveaway Linky
.
How much did you spend on groceries this week?