The linky is up a little late this week, but it was not because I was out shopping. It was because I was cleaning! Yesterday I returned home from shopping to find a brand new Haan MS30 Steam Cleaner waiting for me, so today I have been trying it out, and I am loving it!
As for the shopping….I am under my grocery budget for the fourth week in a row…WOW! I am going to have to repeat that WOW, because this is a rare event. I know, I am only a few bucks below $65, still it is four weeks under budget. Evenm ore important is the fact that both my grocery spending and my extra spending was under budget.
How did you do this week?
Take a look to see what my family got for $65 this week…
You can see the details of my shopping trips by clicking on the titles or the images.
See my:
I spent $1.82 at CVS
I saved $38.01 at CVS
I received $3 CVS Extra Bucks Back
See my:
I spent $8.78 at Walmart
I saved $10.15 at Walmart
See my:
I spent $13.99 at Publix
I saved 8.88 on Toilet Paper compared to the lowest price at my regular grocery stores.
My Weekly Savings Totals
Groceries for a family of 5:
Total spent this week $62.80
Total saved this week $72.10
This week's clothing and extra purchases:
Total spent this week $2.78
Total saved this week $9.21
Total Out of Pocket This week:
Total spent this week $65.58
Total saved this week $81.31
Make sure to check out the Aldi spot for a
Grocery Price List
here at Frugality Is Free for a price comparison between Aldi, Target, Publix, Winn-Dixie and Walmart.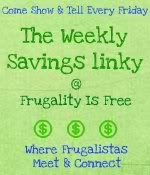 For more places to link up your
grocery savings
check out the
Weekly Savings Linky Collection
, and if you have a giveaway on your blog don't forget to enter it at the
Fantastic Friday Giveaway Linky
.
How much did you spend on groceries this week?